LIBERAL LARK coats, tailor-made exclusively from natural materials (wool, cotton, silk, cashmere) of the highest quality, you can choose:
without nanomembrane
with nanomembrane
The nanomembrane is applied from the underside of the natural fabric. The upper side of the natural fabric is always treated with a special invisible oleophobic and hydrophobic transparent layer.
The nanofiber membrane
Unique structure of Nanomembrane
Thanks to a unique nanofibrous structure with the fibre diameter of less than 150 nm, on 1 cm2 the Nanomembrane nanofibrous membrane has 25% more pores than microporous membranes. This helps the Nanomembrane achieve unique attributes that no other membranes in the world can match.
Excellent permeability, breathability and durability
It is no secret that the Nanomembrane nanofibrous membrane is very similar to human skin, thanks to which Nanomembrane can flaunt with extremely high vapour permeability, i.e. the ability to remove body moisture from human skin to the external environment. Vapor permeability of the two layer laminate with nanofibrous membrane is from Ret 0,89. Moreover, the Nanomembrane nanofibrous membrane is 100% wind resistant and it boasts extreme hydrostatic resistance.
It does not release water, chemicals, nor viruses or bacteria
Maximal waterproof, windproof and breathability.
Elastic properties.
Easy care, insensitive to dirt
No adverse effect on the membrane function.
Excellent protection from viruses, bacteria and bodily fluids.
Thermal protection.
Protection from condensation.
Upper oleophobic and hydrophobic resistance
Moreover, all natural fabrics have a hydrophobic finish using so called DWR treatment: Fluorocarbon type C6 and Fluorocarbon free so called hydrocarbon – PFC-free. Both finish types offer high level of hydrophobicity with similar extremely long service life. The fluorocarbon type C6 has an oleophobic finish a the PFC-free offer maximum possible level of environment protection.

How to care for fabrics
COTTON & MEMBRANE
Fine washing at 30°C
Spin-drying up to 800 rpm
Laundry detergent intended for membrane clothing
Do not use fabric softeners
Iron the product after every washing. This will activate the nanoparticles repelling water, oil and other impurities
You can use a clothes dryer instead of ironing
Can be dry cleaned

WOOL, SILK & MEMBRANE
Dry cleaning only
Iron the product after every dry cleaning. This will activate the nanoparticles repelling water, oil and other impurities
Comparison of the vapor permeability membranes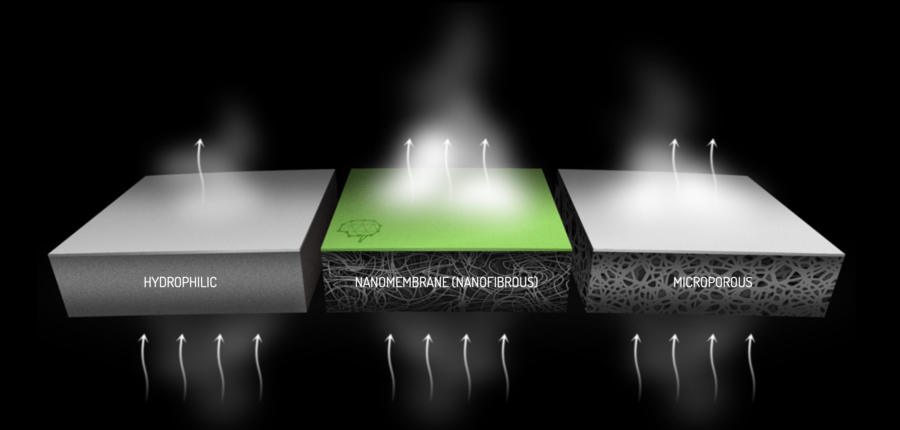 Vapor permeability two layer laminates: from Ret 0,89 / 130

.

000 g/m2/24 h
THE BEST VAPOR PERMEABILITY …